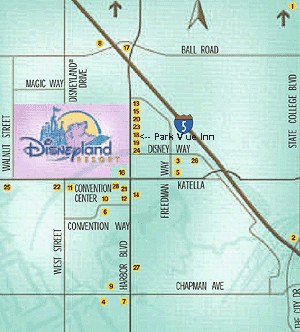 Disneyland Hotel/Motel Map
Check out the Disneyland links below:
Disneyland/DCA Dining Menu's & Prices
Mouse Radio! They play Disney music 24 hours a day, even full ride audio!
Mouse Planet-Disneyland Information Guide
Yesterland - Discontinued Disneyland Attractions
Carrie Ann's Favorite Disneyland Links
Links to Hotels/Motels near Disneyland:
Hotel Kingdom.com Great Hotel Rates!
Anaheim Desert Palm Inn and Suites
Best Western Park Place Inn & Mini Suites
Personal Links Below:
Carrie Ann's (That's Me) Page!
Reborn Berenguer Babies (Dolls) By Cecelia

AERIAL VIEW OF HOTELS NEAR DISNEY THEME PARKS Great Map!
Embassy Suites Hotel Anaheim

Hilton Suites Anaheim/Orange

Residence Inn by Marriott - Anahem

Anaheim Marriott Suites, at Garden Grove

Hawthorn Suites Ltd., Anaheim

Anaheim Marriott Hotel

Crowne Plaza Resort

Sheraton Anaheim Hotel

Hyatt Regency Orange County

Hilton Anaheim

Anabella Hotel

Westcoast Anaheim Hotel

Anaheim Fairfield Inn by Marriott

Radisson Hotel Maingate - Anaheim

Park Inn Anaheim

Candy Cane Inn

Holiday Inn Anaheim at the Park

Best Western Park Place Inn

Best Western Anaheim Inn

Carousel Inn & Suites

Portofino Inn & Suites

Best Western Stovall's Inn

Tropicana Inn & Suites

Ramada Inn Maingate - Saga

Best Western Pavilions

Red Roof Inn Anaheim - Maingate

Anaheim International Inn Travelodge

Jolly Roger Hotel

- Embassy Suites Buena Park, 6 miles
- Embassy Suites Anaheim South, 1 mile
- Hampton Inn Suites Anaheim Garden Grove, 1 mile
- Homewood Suites Anaheim, 1 mile
- Hawthorn Suites Orange, 3 miles
- Staybridge Suites, 1 mile
- Residence Inn by Marriott Orange, 2.5 miles
- Doubletree Hotel, 2.5 miles
- Courtyard by Marriott Buena Park, 6.5 miles
- Hilton Garden Inn, 1 mile
- Howard Johnsons, .5 mile
- Holiday Inn Hotel & Suites formerly Conestoga, .5 mile
- Holiday Inn Anaheim Resort Area, 1 mile
- Quality Hotel Maingate, 2 blocks
- Anaheim Ramada, 1 mile
Park Vue Inn is between 18 and 19, just after 18, it isn't a Disney Good Neighbor Motel... But it is right at the crosswalk to Disneyland and cheap. Also has plenty of parking.
We have stayed at Fairfield Inn (VERY hard beds, door lock broke, longer walk, no breakfast. They did let us check in VERY early tho, friendly desk clerks), Anaheim Marriott (Best Management, best room ever, very nice, beautiful hotel, shuttle), Motel 6 (had to drive in), Park Place Inn (very nice, good breakfast, close to crosswalk, great desk clerks), Carousel Inn and Suites (not all that clean, not a good breakfast, close to crosswalk, slow desk clerks), Maingate Saga Inn, Desert Inn and Suites (lg room, limited parking), Cosmic Age (no longer there, but nice, could walk through the parking lot back then). Jason and his family even stayed at the new Grand Californian Hotel. E mail if any questions about any of these Hotels/Motels. Park Vue Inn (hard beds at the front of the motel, soft beds in the back. More closet space in the back and large vanity area outside of the bathroom, ask for a room in the back if you stay here. Very cheap rates and very short walk to the parks. Rooms 2 queen beds, microwave, fridge, coffee. Nothing great, but close.)